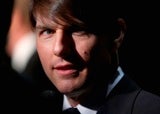 «JeffieJeff» I get tickets to the red carpet, I'm happy. Photos of me and Cruise smiling ends the war. Last thing I will say.

«cockysoldier [the Scientologist]» i hate the fucken war guy

«cockysoldier» take care

«JeffieJeff» Cruise calls - I'll answer

«cockysoldier» he is starting his cable compnay

«cockysoldier» are you pissed at me
If Cruise were, indeed, starting a cable network, it would most likely be through United Artists, the studio he helps operate and co-owns, along with MGM and Paula Wagner, the former CAA agent who formed a production company with Cruise.
MGM, the biggest owner of United Artists, is, indeed, launching a big cable channel to compete with Showtime. But the official announcement of the deal does lists United Artists as a content supplier, not a full partner. That leaves open the intriguing possibility that Cruise is busy assembling something else on his own, perhaps packed with enthusiastic lectures on the adrenaline rush that comes from rescuing car-accident victims.
More likely, as with the United Artists deal, Cruise has been given a role that plays as much to his vanity as to any legitimate business interest, and he is bragging accordingly.