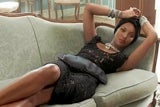 Under its editor, Franca Sozzani, Italian Vogue has gained a reputation for being more about art and ideas than commerce. Ms. Sozzani also doesn't mind controversy.



She said that, as an Italian, she has been intrigued by the American presidential race and Mr. Obama, which was one source of inspiration when she and Mr. Meisel began discussing, in February, the idea of an all-black issue. Also, she was aware of the lack of diversity on the runways in recent years and the debate it fueled last fall in New York, where Bethann Hardison, a former model who ran a successful agency, held two panel discussions on the topic.



Ms. Sozzani said the issue was not a response to criticism that she, too, has under-represented blacks or portrayed them as stereotypes.
It all sounds very progressive, and is enough to make one long for the days when America was known for its optimism, and the Western Europeans, all too often, for xenophobic fear of immigrants, relative religious intolerance, and for being too cynically stuck in their ways to engage in genuine, constructive racial dialog. How the tables have turned.
[Times]



(Steven Meisel photo via Times)