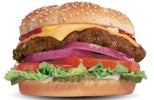 Processed french-fry inventor JR Simplot, 99, "natural causes," May.
Baskin-Robbins founder Irvine Robbins, 90, "complications related to old age," May.
Lovie Yacey, founder of Fatburger, 96, "pneumonia," February.
Carl's Jr. founder Carl Karcher, 90, "had Parkinson's disease and was being treated for pneumonia," January.
We left out Popeye's Fried Chicken founder Al Copeland, 64, who died of "malignant salivary gland tumor" in March. But he didn't do too badly at all, especially, as our own Hamilton Nolan pointed out, "for a man with a lifetime diet of fried chicken!" (Ahem.)
So there you go — irrefutable, scientific proof that you not only can but probably should load up on cheeseburgers, ice cream, french fries and hot dogs throughout the summer and really for the rest of your life. Hold the guilt!
[Times]