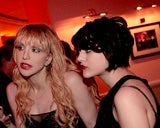 She is not her parents: "I get it, I really do, but at the same time it's creepy."
She is not her parents: "If you're a big Nirvana fan, a big Hole fan, then I understand why you would want to get to know me, but I'm not my parents."
Career interests: "She's thought about photography and/or journalism."
Also: She is not her parents! "People need to wait until I've done something valid with my life."
So, basically, a fairly typical 15-year-old, except she already has Rolling Stone on her resume, and has already been savaged in Page Six. But given that her mom is Courtney Love? Something tells me she's not sweating it.