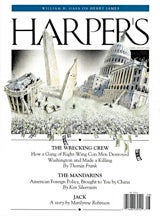 There's something about organizing social events over the internet that encourages people — everyone, really — to try a little too hard to impress. This is why Evite pages are filled not only with RSVPs but also with in-jokes, double entendres and various other self-conscious displays of wit. And why so many emailed party invitations take three long paragraphs to get to the point! To make sure you never waste another minute being cute like that in a damned internet invite, have a look at this phenomenon in extreme form: Emails in which n+1 staffers, along with other highfalutin types (from the New Yorker, Council On Foreign Relations, Paris Review and so forth), are told "hey let's meet at the bar" in the insanely obtuse manner they surely prefer. Harper's editor Christian Lorentzen is apparently the one who writes these things, but Jess Roy could no doubt use the emails to spin yet another indictment of the greatest literary cabal of our era, etc. — without even leaving the house! We've reprinted a couple, via Daily Intelligencer, after the jump.
Dear chums,

There's drinks tomorrow at seven at the Scratcher, 5th Street and Bowery, these, because sometimes its fun to honor something inhuman, will be in honor of giant rock formations, such as you see girding the highways of New England, granite in and around the Granite State, and here I am gripped by the urge to plagiarize something about a different sort of mineral, but looking at Auden's "In Praise of Limestone" see no lines ripe for insertion, though there are a few good ones, like, "I am the solitude that asks and promises nothing; / That is how I shall set you free. There is no love; There are only the various envies, all of them sad." But Xian, "That's such a downer," you, the list, say. "Do you really expect us to show up at this bar for the umpteenth time after spout some bullshit about rocks quote some depressingly pious mid-period Auden lines? What happened to the days when our inboxes would fill up with eighty emails about Norman Mailer making love to three-hundred-pound women? Where the fuck is Jon-Jon? He was fun." Right, I say. The earth is an oyster with nothing inside it. Not to be born is the best for man. The second best is the bailiff's order: "Break your embraces. Dance while you can."



As ever,

Xian
Dear everyone,

There's drinks tomorrow at nine at Scratcher, 5th and Bowery, these for this one who is certainly expressing something, who a few think is expressing something wrong, who is not certain that he is not expressing something wrong, who is telling something about suffering that is not a saddening thing to anyone hearing and not a dreary thing, and who very many are certainly wanting to be doing what this one is doing, wanting to be ones clearly expressing something, and who a few are very certain this one is someone great.



As ever,



Xian
At least, in these, he puts the time/place first so you can skip the rest of the email. Still!
[New York]