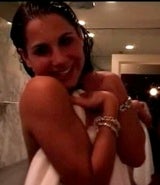 [A producer involved in deal talks] said Dupre has expressed an interest in journalism and lounge singing.



"She also has a strong desire to give to a charity," he said. "She's very analytical. She wants to help people. She sees herself as a kind of Dr. Phil."
She does know even top psychologists max around five HUNDRED dollars an hour, right?
[Post]