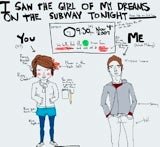 Moberg said he didn't want to tell anyone about their breakup "because I loved the idea of people making their own endings to our unusual story." But Hayton just blabbed to the Austrlian press:
"We dated for a while, but now we're just friends," Ms Hayton says.



"It's really nice that people embraced the story. It is part of my life now."



She says she dated Mr Moberg for about two months, but it didn't work out.



"The situation was so intense that we bonded in a way that you could mistake for being more romantic than it was. But I wanted to give it a go, so I wouldn't later wonder, 'What if, what if?'."
So the relationship lasted all of two months. Maybe both people got something nice out of the experience: Moberg said he wrote a "little" illustrated book about the saga and Hayton perhaps has a gimmick for getting an audition for certain acting gigs. She landed a small role on As The World Turns and was an extra on Sex And The City!
But who dumped who? And what, exactly, went wrong? Here's a clue, from the Australian newspaper story:
"We see each other now and then and we email quite a bit - I guess that's his forte," Ms Hayton says.
Zing! Communication problems, perhaps? Yes, probably. And a lesson: If you can't introduce yourself before a crush walks out of your life forever, maybe it's best to let that person actually be out of your life forever.
Alternate lesson: It never hurts to try, even if you have to use the internet and/or embarrass yourself and so forth. You might have a fun experience!