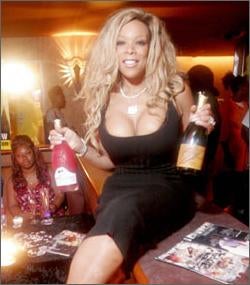 Whoa, did you know that the somewhat maddening hip hop radio queen and penis-talking daytime TV host Wendy Williams "stands about 6-foot-4 in heels, not counting her sometimes formidable helmet of hair"? That is one tall, tall gossipeuse. And though she's succeeded in getting some good ratings by doing things like battling the evil Omarosa on live TV , Wendy seems to be having a hard time convincing advertisers and publicists that her penis-friendly show is the place for them:
The producers still seem to be trying to find exactly the right sales pitch for her as a personality on TV, which due to the involvement of high-dollar advertisers requires hosts to be more politic than on talk radio. Ira Bernstein, co-president of Debmar, groaned when I mentioned a show last week that featured a gag photo involving a giant phallus (don't ask) and took issue with my characterization of Williams as "polarizing."
She's not polarizing at all! See how celebrity-friendly she is:
The host says amen to that. "I want celebrities and their publicists to understand," she said, that " 'The Wendy Williams Show' is a wonderful place to come and promote your product." She points out that her interview with Vivica A. Fox was "lovely," despite the fact that she asked the actress about an Internet sex tape that purports to feature her.
[
LAT
]