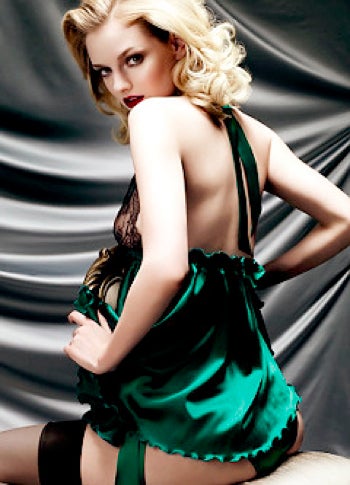 In model-heiress Lydia Hearst's self-manufactured feud with Paris Hilton, Hearst positions herself as the more upscale socialite. Her sidelines constitute a "legitimate career," her poses those of a "supermodel" rather than the pedestrian kind and her family lineage is somehow more distinguished. Of course she's pretty much wrong in all regards about all that, but that doesn't mean she'll stop trying to make it true through endless repetition. So when the 23-year-old decided to flash some more skin (outside of bra-optional parties), she didn't do it in an endless series of nipple flashes, Paris Hilton style. She did it with her first lingerie campaign, for "upscale" brand Myla — and got coverage in the sorta-classier New York tabloid, the Daily News. Listen to how she says "ogle my body!" — and, optionally, ogle her body again via a remarkably stiff picture — after the jump.
"I love the way the images turned out," Hearst-Shaw told the Daily News on Wednesday. "This season people will be seeing not just my high fashion/couture work, but also a sexier side."

... "I certainly have to give credit to my personal trainer David Kirsch for keeping me in shape and making sure I look good in lingerie," she said.
Hearst has to know it's not her "high fashion" people will be checking out with this campaign, but points to her for keeping up the charade!
(Photos by Myla via Daily News)