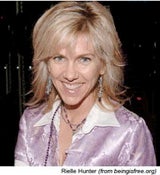 "She's a nice girl... She used to be a real party girl.
"When she wasn't out at nightclubs, she was taking acting classes. We dated for only a few months, but in that period, I spent a lot of time with her and her friends, whose behavior intrigued and appalled me to such an extent that I ended up basing a novel on the experience," McInerney recalled.
And, to think, now Rielle Hunter's behavior is intriguing and appalling the entire country. It doesn't get much more appalling than sleeping with a guy whose wife is dying of cancer!
Assuming, you know, Hunter doesn't suddenly decide to deny the whole love child thing.
We should have known something big was going to become of this woman when McInerney depicted her saying, "Most of the guys I know have really high-powered jobs and make up for lost time when they're not in the office."
[Post]