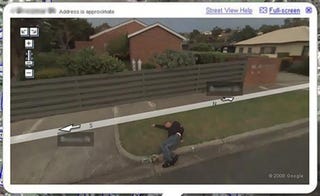 Heh. Google Maps Streetview is still showing us funny things. We've already had
a supposed drug deal, a boob flash, a bicycle accident, and a maybe pretend shooting
that were all caught by the little VW Bug with the magic camera on its roof. Oh, and Valleywag shows us that they
also caught a house fire!
It's a sprawling portrait of the daily drama. And now we have the above photo, which shows a drunken man in Australia passed out on his front lawn. I wonder if the guy driving the car noticed him and decided to include him for comedy value. Streetview is like a videogame with all of its Easter eggs and hidden things except, you know, it's real life. So cheers to our blotto friend, asleep there in his Irish pajamas. May he take a screenshot and hang it on the wall. [
TIL
] After the jump we've compiled the other aforementioned images.