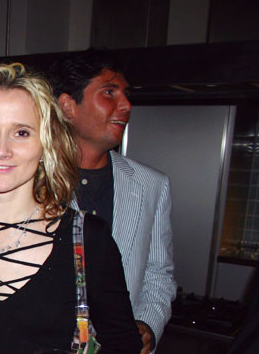 Microcelebrity: how long does it last? Will there be a retrospective blog roundup in early 2009 called "2008's Fameballs: Where are they now?" We suspect that the half-life of Internet fame is even shorter than that of regular fame. Continuing today's Warholian fifteen-minutes-fame theme—hey, we
exist
just to accelerate the man's predictions—
Young Manhattanite writes
that "the Gawker orbit in 2003-04 was a weird one, full of sparkling transient miscreants who you befriended, respected and were disgusted by all at the same time... [Matt Harvey] was a fixture, as much as one could be in Denton's then sparsely furnished loft, on the scene and got his share of linkage." Wait, who? The only photo they were able to dig up of the supertan former Anonymous Outsider blogger in the wild is this one, taken years ago in said loft. Maybe he got eaten by the Internet! No, actually—as an article by Harvey himself explains
in the New York Press's sex column this week
, what he's been up to is kicking heroin:
But when I was shooting heroin every day for seven years the last thing I wanted was a girlfriend in addition to my all-consuming vice. Junkies had expensive habits, rarely wanted to have sex and were an all-around reminder of why I hated myself. So I had a string of flings with straight girls that would last until my behaviors added up to something that-even if they couldn't place-were impossible for them to ignore. The last of these relationships was with a tiny 19-year-old brunette who made me desperately want to kick dope...
We're sincerely glad he's clean now. The lesson here has nothing to do with drugs, however. The lesson is the "who?" you thought after "Matt Harvey." (Nothing against Matt—you're just the example here, dude.) Internet microfame is short and fleeting. But oh, how fun it is to elevate people to miniceleb status until it becomes theater of the absurd. (It's not
that
absurd if you think about it, however—if the many blogs of the world are gonna insist on churning out content 24-7, we're going to all need some entertainers to provide us with freaking
content
. Microcelebs serve this purpose.) Enjoy your fifteen minutes while it lasts, folks.