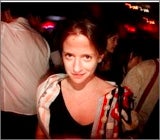 On the one hand, a childhood pal — Russell's mom was reportedly best friends with Levy's mom — can do far worse than guiding one to tens of millions of dollars in wealth. And Pilot Group did more than passively watch its investment grow. From what we hear, Pittman's salesmanship was key to growing Daily Candy's advertising base. Such involvement would be in keeping with Pilot Group's focus on taking a "control position" in its investments. After the investment firm acquired Daily Candy, the newsletter's subscriber count grew tenfold to 2.5 million.
But not everyone buys that version of events. Said the tipster, an AOL veteran who followed Daily Candy closely:
For Pittman to brag that subscribers have increased since he made
the investment is just private equity puffery and delusion. That
would be like my grandmother taking credit for the business success of
the stocks she owns.
Perhaps Russell's help was not so selfless. As our source notes, Russell's advice on the deal would have been "highly conflicted," Russell having worked for Pittman for several months before the Daily Candy investment closed in late 2003.
His line to other potential portfolio
companies and strategic partners is that through his friendship with
Dany, HE was responsible for the early success of Daily Candy as a
startup, so he didn't feel compunction about duping the original
shareholders... Whatever the case, Pittman was not a genius to have his
junior guy abuse a family friendship in a predatory deal.
Let this be a lesson to startup founders who are not yet sufficiently cautions about venture capital investment, or who spend too much time worrying about whether their fameball girlfriends really truly love them for the right reasons: If you're not careful, you might have to settle for a paltry $25 mil when the big payday comes. After taxes, you'll barely be able to afford a decent loft!