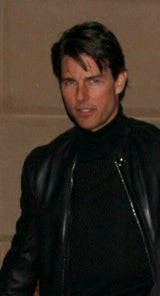 It's been an awful week from Tom Cruise at the movie studio he nominally operates, United Artists. His inner circle is gone, including a president who left in mid-July, an executive vice president who was said Monday to have fled and Cruise's former agent, who was pushed out as CEO of the foundering studio Wednesday. Now, from the Post, comes word that Cruise himself is about to be "neutered" within United Artists by controlling partner MGM because he doesn't know what he's doing, a humiliating second defeat in the wake of his 2006 ejection from Paramount by Sumner Redstone. Add this to Cruise's other recent setbacks:
Cruise was replaced by Angelina Jolie for the coveted starring role in CIA thriller Edwin A. Salt. The official line is that Cruise decided he didn't want to do the film because he's into comedies now, but...
...that doesn't wash with his embarrassing rejection for the next Mission Impossible series as described by Page Six. The Post gossip section said Cruise was "thought too old and too expensive to star" in the movie, and quoted a source claiming, "He had a tantrum and ran out of the meeting."
Cruise's wife Katie Holmes is living in New York while she rehearses for her Broadway debut and entertains the kids. At the very least, the distance must be emotionally taxing for Cruise. Holmes jets back to Los Angeles to visit, most recently for the opening of Tropic Thunder, where Cruise has a successful turn as a satirized version of Sumner Redstone. But Holmes' move to New York was presaged by a tabloid report of a trial separation for the couple, followed by a report of time together at a Scientology "boot camp."
Cruise was sufficiently alarmed to be named in a RICO suit against the Church of Scientology that his private investigator was dispatched to trash the plaintiff in the Daily News last month.
In June, Cruise allowed his lawyer Bert Fields to compare television's Dr. Drew Pinksy to a Nazi.
Instead of letting Cruise try to fix everything with yet another round of Scientology auditing or whatever, perhaps it's time for Cruise's non-brainwashed Hollywood friends to stage an intervention (paging Jason Beghe).
[Post]