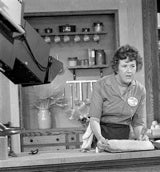 But it's interesting to get confirmation, and to learn that Child forthrightly informed the spooks on her application that her weakness was that she was "impulsive," because she quit a department store job once. It's not clear where Child did her spywork — she was stationed in Sri Lanka and China before moving to France, where she was trained as a chef.
Also, there are allegedly some reporters named in the documents released today, but no names have come out yet.
On a totally unrelated note, Bob Woodward of the Washington Post is a "former" Naval Intelligence man.
[AP]