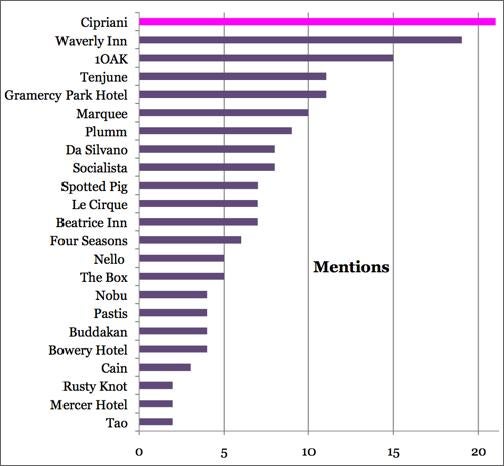 Page Six is not just a gossip column; it's the ultimate favor trading tool. Boss Richard Johnson can (within reason) make the in-crowd believe that a particular restaurant is a great place to see and be seen-whether true or not. We took a look back through all of Page Six 's coverage for the first six months of this year, and put together the chart you see above, tracking the most-mentioned restaurants. It conforms to one's mental list of New York hot spots, with one exception: Cipriani , whose 21 mentions (for three locations) took the top spot. Now, Cipriani is prestigious in its own musty old way, but it hardly fits in with the rest of the list, which is full of buzz-worthy celebrity nightspots and the odd mogul hangout. Favor trading illustrated? Below are some of the more press release-like Cipriani "gossip" items P6 saw fit to print this year; judge for yourself: 6/22/08
WE HEAR: THAT Stephen Colbert will belt out the National Anthem at the Partnership for Public Service gala Tuesday night at Cipriani 42nd Street, where Police Commissioner Ray Kelly will be presented with the Theodore Roosevelt Award by his friend, Attorney General Andrew Cuomo.
6/19/08
SIGHTINGS: "DANCING With the Stars" runner-up Jason Taylor and former Miami Dolphins teammate Dan Marino backing up Carlos Santana on bongos and cowbell at the Samsung Four Seasons of Hope Gala at Cipriani Wall Street.
5/25/08
WE HEAR: The 540 Latino-philes at Cipriani 42nd Street the other night applauded the news that Goya Foods owners Joseph and Carmen de Unanue donated $3 million to the Fifth Avenue museum of Hispanic culture.
5/20/08
WE HEAR: THAT comic Lewis Black will perform at the 21st Anniversary Gala of the Cooke Center for Learning and Development tomorrow at Cipriani 42nd Street.
4/29/08
WE HEAR: THAT John Catsimatidis is being honored with Frankie Valli by the Friars Club on June 16 at Cipriani 42nd Street, where the cast of Broadway's "Jersey Boys" will perform.
1/26/08
WE HEAR: THAT the Halcyon Company will auction off a walk-on role in "Terminator Salvation" during the Cipriani AmFAR event Thursday.
. [Outside of
Page Six
, we should note, the
Post
seems to cover Cipriani's troubles pretty aggressively.]