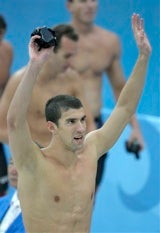 Dog food, "given Mr. Phelps's well-known love for his British bulldog, Herman."
Bobblehead dolls
Acrylic paintings
Commemorative coins
Car rims (!!!)
Tuxedos
Swimwear (Speedo is an existing sponsor but contract is up)
Watches (Omega is an existing sponsor)
Credit cards (Visa is an existing sponsor)
Electronics (Phelps partnered with a Hong Kong-based MP3 player after the Athens games in 2004)
Even if Phelps makes his agent's estimate of $100 million, he will stake make in a lifetime what golfer Tiger Woods makes in a year, since Woods is constantly playing and, presumably, picked a sport of greater interest to the wealthy.
But Woods' groupies probably aren't half as hot or a tenth as numerous.
[WSJ]