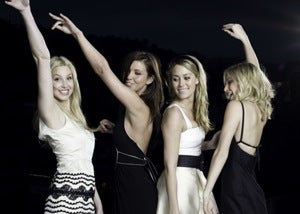 I almost didn't mention it. I kind of
don't want to
, but I feel I must. I mean, you probably already taste it in the sticky sweet air, probably hear its dull thrum-like a single cello string plucked, probably smell its lip gloss and vodka bouquet. I am, of course, referring to the return of MTV's reality juggernaut
The Hills
, which is thudding its way back onto our television screens tonight. When we
last left our friends
, Lauren and Audrina were sad because their friendship was faltering, Lo was being mean, and Spencer and Heidi got back together. It was glorious and smelled like a farm does when you drive by it and I wanted it to go away forever. But it will never go away, not ever. So, sigh, what will happen on this new season?? Well, first off, Audrina will die. While hang gliding with Justin Bobby, her erstwhile mumble-mouth boyfriend, she'll suddenly look directly at the sun. She'll blink furiously and lose control and spiral down toward the gleaming blue Pacific. Justin Bobby will mourn her by grunting a bit, then hitting on a girl. So yeah, Audrina is dead. Or
is she?
Lauren will start finding strange bits of detritus on her doorstep. Seashells, bits of glass, the severed head of Frankie Delgado. Is Audrina secretly alive, or is she exacting undead revenge, like the watery
Ted Danson zombie in Creepshow?
Tune in to find out! While dealing with the bloated undead, Lauren will also be struggling with her next computer class. Expect lots of footage of LC swatting at the computer and sort of chirp/meowing. Spencer's sister, Spencerina, will be there too. Once Lauren leaves, Spencerina will make out with Lauren's computer. Traitor! Also, Heidi will become a prize at a carnival. She'll be hung up at the back of the booth until she is won by an acne-faced boy from Ohio who fills a balloon with water the fastest. She'll be passed off to the lad's girlfriend, who will absentmindedly leave Heidi in her cousin Dorine's Ford Probe when she gets dropped off at home that night. Spencer will cope with the loss by painting another vroom vroom! mural on the walls and then doing a slow, mournful jig. Then Whitney will come out reading a large, ancient book. She'll close it slowly and say, beatifically, "all has ended." Then she'll disappear into thin air. The credits will roll as Jenn Bunny croons
Just the Way You Are
. Or, you know,
this stuff happens.