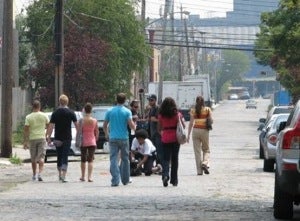 Confirmed
Real World: Brooklyn
sighting! The gurgling reality show cast (photographed above by
NewYorkology
) was seen on Saturday night at Williamsburg hipster dance party bar the Royal Oak, and were acting a hot mess. One of them was named Chet [shudder] and was a Mormon. Dudes hit on our tipster's friend, and the whole cast "ruined the dance floor." Oh, it's
on
now.
Please send us your Real World cast sightings.
That way we can triangulate their main stomping grounds and, as something of a public service, warn you away from them. Full sighting after the jump.
Ugh. They were all out at Royal Oak on saturday (8/16) night. Hit on my friend. Ruined the dance floor. Tried to take her home to 'corrupt' the mormon guy, who's name is.... chet. Talked to the two blond dudes. they made me sick to my stomach. remember when MTV cast people who already lived in NYC? except for julie of course. On the upside we now have the number for the real world house. Just have to figure out how to use it to make them all self-destruct.