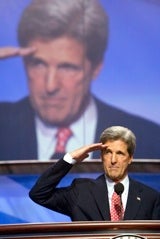 Not only will bloggers have Internet access, workspaces and couches for napping in the "Big Tent" headquarters, they will be provided food and beverages, Google-sponsored massages, smoothies and a candy buffet. On the final night of the convention, Google is co-sponsoring a bash with Vanity Fair magazine for convention-goers and journalists that has become one of the hottest party invites.
A candy buffet — that's so perfect. Perhaps it could be located in a mocked-up "Parents' Basement" zone to make the bloggers feel just slightly more condescended to.
And a fancy Vanity Fair party. Welcome to the Establishment!
Granted, the bloggers each paid $100 for access to their "Big Tent," but that just makes their participation a waste of time, energy and money. And, as the Journal said, Google is still sponsoring many perks, so it's not like the $100 buys a claim on total independence. (If you don't think bloggers can be bought with candy and massages, you just haven't met that many bloggers!)
[WSJ]