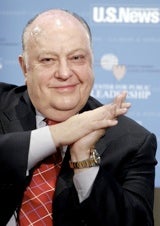 Ailes' channel has been flagging over the past 12 months. Fox News is rapidly losing ground among the younger viewers most coveted by advertisers as MSNBC and CNN more cleverly exploit the presidential campaign season.
Ailes' utter failure, meanwhile, to control Fox News' snarling, smearing attack-dog PR department has been an embarrassment to his boss Rupert Murdoch, who has apparently resorted to trying to appease the once-despised Times with scoops to clean up the mess.
Ailes' bonus is a dumb use of News Corporation's money, which perhaps makes it slightly less of a weeping tragedy for lefties.