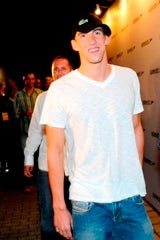 "Eww, that's nasty... I have never, ever hooked up with Michael Phelps," Beard said via telephone from Beijing on the "Johnjay and Rich Show," which is broadcast on Kiss FM 104.7 in Phoenix...



"Come on, I have really good taste... He's really not my type."
Right but isn't Phelps' job to win swim meets and maybe help sell some swimwear and watches on the side? And hasn't he succeeded brilliantly at that as compared to a certain Amanda Beard who dropped out after the semi-finals? God this isn't even a proper backlash.
[Post]