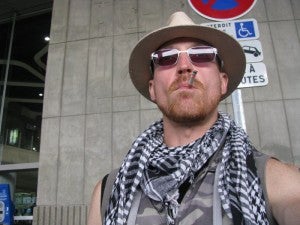 Yesterday we brought you the
disturbing news
that hipster artist Jim Powderly had been detained by Red Chinese authorities. Now we know why. (Also, that Powderly invented
throwies
.) Yesterday Powderly and his minions unfurled an LED-lit banner in Olympic Park. The lights stayed on for about 20 seconds before police rounded up Jim and his five "citizen journalist" helpers. Even Jim's haters — and one emailed us — are concerned. In the meantime, we learned a little more about some of the international rabble rousers he might meet in jail.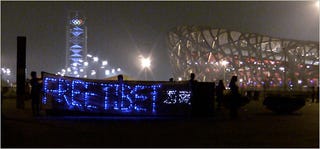 Jim's haters hate for the typical "hipster agitprop art: really is there a point?" reasons. As in:
this
might look cool, but it's not exactly convincing anyone of anything other than "wow, some overeducated robot geek boys will certainly stop at nothing to earn the esteem of dumb people!" That said, this most recent stunt kind of earns him our esteem! (And anyone whose
self-authored bio
begins "James Powderly started this shit back in the year of the dragon, 1976," and mentions his work for NASA while conspicuously leaving out his institution of higher education is basically somewhat awesome.) In related news, we mis-reported (in our defense, we told you we were probably mis-reporting!) that Powderly had been the first American detained at the Olympics. While no American journalists have been detained, Students For A Free Tibet tells us 28 American Tibetan independence activists have been jailed or kicked out of the country, along with nine Canadians, four Brits, two Germans, one Aussie, one Japanese, one Irish, one Argentinian and three Tibetans. But for most other foreigners in town it's been a relatively incarceration-free couple weeks.
Team Darfur speedskater Joey Cheek
got his visa revoked. And last week a British journalist was
roughed up and detained while attempting to cover
an anti-Tibet protest; he was finally released when authorities saw his press credentials. But the other four journalist-cop clashes the Foreign Correspondents Club of China has heard about since the Olympics began all went down far from Beijing: two Scandinavian journalists were prevented from interviewing peasants in Hebei province about the impact of the games on their activities and two Associated Press reporters covering the
bombings in Xinjiang province
— it's like the
Muslim Tibet
but "students" do not really care about it — got their digital cameras erased. (Of course,
plenty of actual Xinjiang natives were arrested
and that is where they are
really
not looking forward to the Olympics ending.
)
Free James Powderly