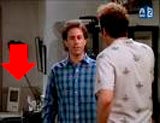 In an effort to promote its poxy Windows Vista operating system, Microsoft is paying Jerry Seinfeld $10 million for an endorsement, the Wall Street Journal reported this morning. Yes, because if there's one surefire way to convince everyone Vista is cool, cutting edge and not liable to get frazzled by life's minor complications, it's hiring a 1990s sitcom star and professional kvetcher! Who, um, very visibly owned a series of Macs on his show. This is Microsoft's worst promotional concept since, well, since its last Vista campaign, the Mojave Experiment, which decisively proved that people hate Vista but will use it if they are tricked into thinking it's something else, like a stable, functional tool. Here's how Madison Avenue is responding:
"They are not seen as cool," says Robert Passikoff, president of Brand Keys, a New York branding firm. "Apple is cool. Can anyone even recall a Microsoft ad? No."
And they won't be able to remember this one either, because using Seinfeld humor in ads was already considered tired three years ago.
Good luck with alll that!
[WSJ]