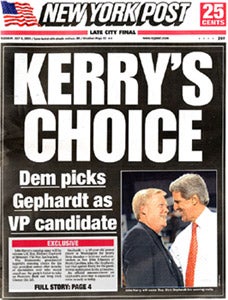 Ok we are BREAKING OUR OWN PLEDGE here and passing along two bits of fantastic News-Free Vice Presidential Speculation Updates. FIRST: Rupert Murdoch's
Wall Street Journal
accidentally sent out a
statement saying Obama chose Tim Kaine.
Hah. So we know it's not him! Second: for some reason, everyone is now claiming totally obscure conservative Texas congressman
CHET EDWARDS is a finalist.
Yes, of course. Because this is the perfect season to roll out those OBAMA/EDWARDS lawn signs, right? Jesus Christ.