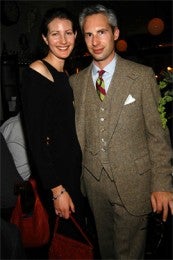 You know whose life sucks? Jared Paul Stern. The man will never work in this town again after Page Six threw him out on his ass for allegedly extorting creepy supermarket billionaire Ron Burkle, and now Stern just sits around his house watching his defamation suits against Burkle and the Clintons
get thrown out
. Well. Now things somehow got worse. Because a guy named Deane Benbenek is
pimping what is allegedly a video of him fucking Stern's wife
to Jossip. Also: warrants and restraining orders! The facts of the matter: there is maybe an arrest warrant out for JPS's wife Ruth Gutman, "on charges of a little identity theft, computer trespassing, and fraud." All presumably based on a criminal complaint filed by Deane Benbenek. He says they started a business together in 2007, selling hand cleaner. According to Benbenek, Gutman filed papers with the state naming her sole proprietor, and then gave Benbenek forged papers calling them co-owners. Also according to Benbenek, in January of 2007, they had an affair. Benbenek says he videotaped them
doing it.
Jossip has seen... stills? Or something? They say: "And he offered us the photo evidence to prove it. By all accounts, it looks legit." Huh. Then post it! [
Update:
They did!
] The only documentation available for your perusal so far is the restraining order Gutman filed against Benbenek. But! Here's some random Internet detritus!
Ruth
currently sells "Red Bear Hand Cleaner." A Whois search says she registered the domain in January of 2007. Benbenek's "Bear Paw Hand Cleaner" can be found, oddly, at
Glennbenbenek.com
, registered June of 2007 by Deane, and at
bearpawhandcleanrer.com
, registered by Deane last March. So Jossip's report is already confused-it looks like Ruth (and Deane) founded
Red Bear
together back in 2007. And then, when the partnership went sour, Ruth didn't so much "steal the formula" as
Deane
took it with him to
Bear Paw.
Deane's MySpace confirms!
I started a company called Red Bear Hand Cleaner not that long ago(I have been making hand cleaner for 15 years) but got screwed by the most evil partner in the world. But I am back and better than ever. Thanks RG.
Oh, and according to Deane's MySpace page, he
himself
is married. With "two little ones!" So he really means business with this "sending proof of an affair to blogs" stuff. Here's his last blog entry:

Of course, none of this explains why he is only friends with Tom and someone named Jason. Here's a photo of Ruth and Deane together,
in better times: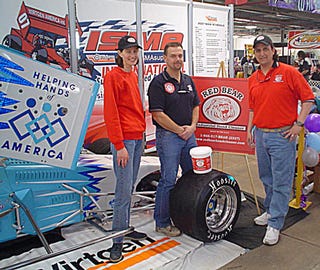 Jared Paul Stern denies everything and calls Deane a "stalker." We withhold judgment on all of this until we see proof of
something.
Update!!!
Photos.
Whee!