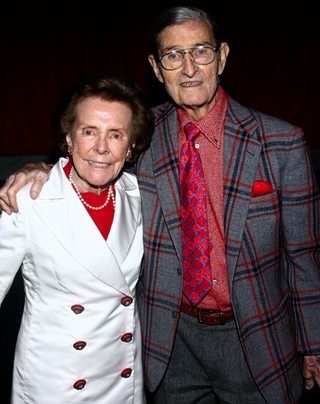 Jerry Ford,* the (dapper!) fellow pictured here, is dead at 83.** Ford founded Ford Models, one of the leading agencies in the seventies and eighties that legitimized the industry and gained renown for discovering Lauren Hutton, Christie Brinkley,
Rachel Hunter
, Vendela and sundry other blonde ubermodeltypes and OMG I totally forgot about
Xuxa
. Ford is slightly less famed for its canny picking of future Mouseketeer Gone Wild types: the agency represented Lindsay Lohan and Mischa Barton, Ashley Tisdale, Courteney Cox, Ali Larter and ha ha ha we will forgive him for this but Paris Hilton. Because Jerry Ford was the first genuinely decent boss in a business characterized by predatory "robber barons." A lot has changed since Ford's heyday, and not for the better!The robber barons, for one thing, are back. As our anonymous industry friend and Jezebel contributor
Tatiana
tells us, most modeling agencies these days are glorified human traffickers that occupy a place on the "usury" spectrum somewhere between Payday Loan shops and actual armed robbers. Agencies stick them in overcrowded model apartments and gouge them on rent. When they are not in "demand," they're forced to work for either clothes or nothing at all; when they
are
in demand, they're forced to walk 28 shows in a week and that sort of nonsense. Ford was different. He instituted a five-day workweek, paid models every Friday even when clients didn't pay up, and ran a practically Victorian institution wherein models weren't allowed to host gentleman callers. I don't even think he knew how to get coke! Obviously all that shit is gone today. In any case, Ford sold out to a private equity firm in December and his son who is still involved in the company is apparently (duh) a modelizer. We welcome any and all old Ford Model cards, hot Courteney Cox pix, links to that cute Lindsay Lohan-Mischa Barton catalog picture that surfaced sometime last year and/or clips of that retarded Xuxa show.
Jerry Ford, Man Behind The Models
*The nice ex-president with the homophonic name died in 2006, remember? Hah. **On another note, Ford died of endocarditis, a deadly heart valve infection that generally results when a sick patient contracts a virulent strain of the sort of antibiotic resistant staph you may know as MRSA. More people die from MRSA every year than AIDS these days, but as the New Yorker recently pointed out, few pharmaceutical companies invest much money in developing drugs to fight infectious disease anymore because there is so much more money in developing drugs that might make us less fat or something.