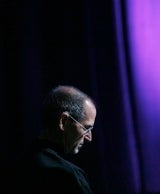 The obituary contains nothing to indicate Bloomberg has new information on Jobs's health, at least in our quick skim.
But the reporting notes do reveal that near the top of Bloomberg's list of people to call in event of his death is Jobs's ex girlfriend Heidi Roizen (quite the Valley switchboard, apparently) and California attorney general and (like Jobs) cranky aging hippie Jerry Brown. Also, Bloomberg doesn't seem to have many people's cell phone numbers.
Retraction:
Story Referencing Apple Was Sent in Error by Bloomberg News
Aug. 27 (Bloomberg) — An incomplete story referencing Apple

Inc. was inadvertently published by Bloomberg News at 4:27 p.m.

New York time today. The item was never meant for publication and

has been retracted.
—Editor: Joe Winski, Cesca Antonelli
Steve Jobs obituary:
JOB, STEVE. APPLE FOUNDER, TECH VISIONARY. UPDATED AUGUST 2008



HOLD FOR RELEASE - DO NOT USE - HOLD FOR RELEASE - DO NOT USE



Steve Jobs's birthday: Feb. 24, 1955

BIO UPDATED AS OF 2008, by Connie Guglielmo



APPLE PR CONTACTS: Katie Cotton — -redacted- and Steve Dowling: -redacted- or -redacted-

People to contact for comment:

- Apple co-founder Steve Wozniak: -redacted-

- Jon Rubinstein, former head of Apple's iPod division. He's now

chairman at Palm. Contact Lynn Fox in PR.

- Heidi Roizen: venture capitalist who once dated Jobs: -redacted- or -redacted-. Heidi knows a lot of Silicon



Valley insiders and may put us in touch with others, including

A.C. Mike Markkula, the first VC to back Apple.

- Larry Ellison of Oracle (one of his best friends); contact

Deborah Hellinger in Oracle PR. -redacted-, -redacted-



- Jerry Brown (personal friend) and California AG. Try GARETH

LACY at -redacted- IN OAKLAND; -redacted- CELL, -redacted- or press office: -redacted-



- Al Gore: member of Apple's board of directors

- Bill Gates: Microsoft was among the first developers of Mac

software

- Bob Iger at Disney: who bought Pixar from Jobs

- Eric Schmidt, CEO of Google and member of Apple's board. Send

note to -redacted- or try David Krane: -redacted- or -redacted-



- Paul Otellini, CEO of Intel Corp. (Apple began using Intel

chips in its Macs in 2006). Contact Tom Beermann: -redacted- or

Bill Calder on -redacted-. Both in Intel PR

- Scott McNealy, co-founder of Sun Microsystems. Contact Shawn

Dainas in PR: -redacted-

- John Lassiter and Ed Catmull: Pixar-nee-Disney executives. Try

Zenia Mucha, -redacted- or Jonathan Friedland, -redacted-, in

corporate PR at Disney.

- Guy Kawasaki, one of the first Apple evangelists. -redacted- or -redacted-



- Nolan Bushnell, founder of Atari, who bought an early circuit

board for the game Breakout from Jobs and Wozniak. (pr is being

handled by his daughter, Alisa Bushnell. her cell is: -redacted-; work is -redacted- work/message;-redacted-)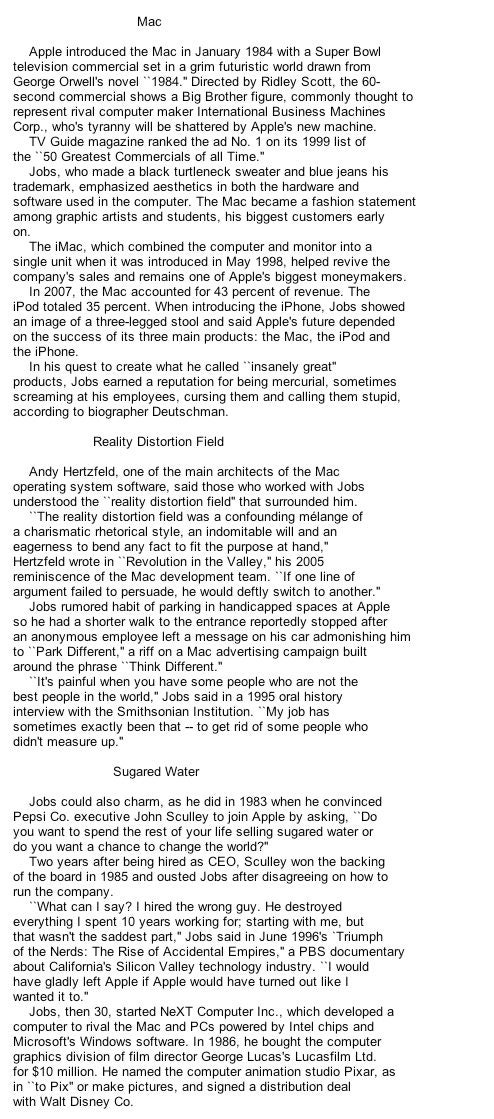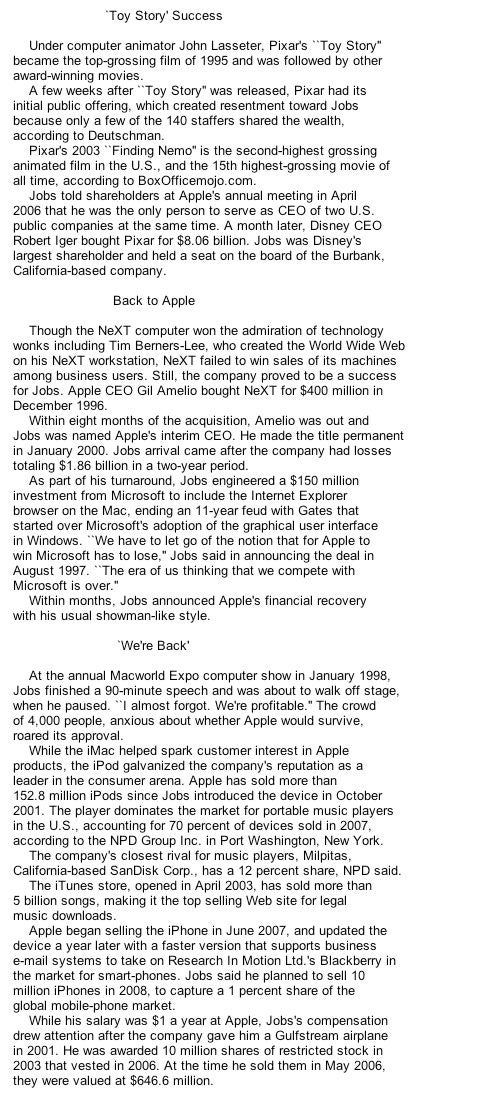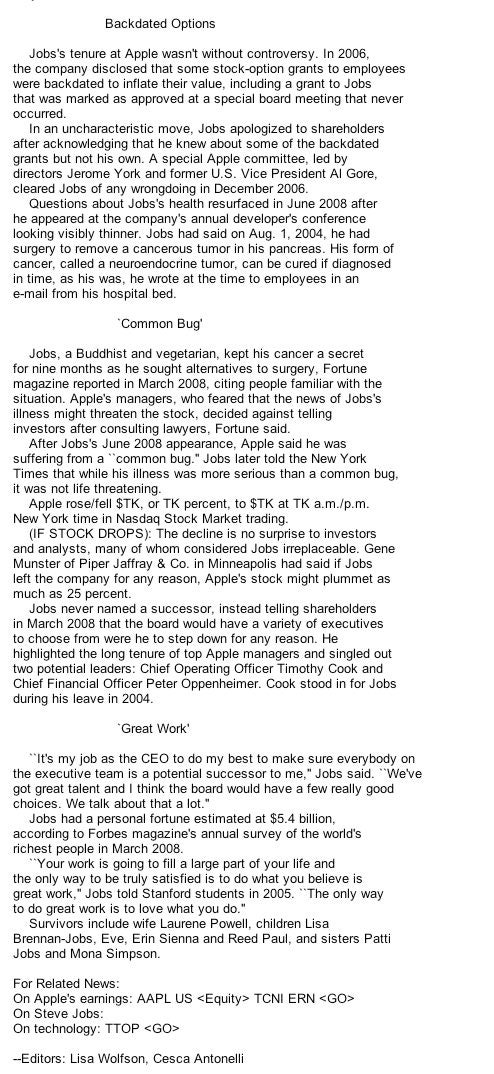 To contact the reporter on this story:

Connie Guglielmo in San Francisco at-redacted- or -redacted-



To contact the editor responsible for this story:

Cesca Antonelli at -redacted- or -redacted-



AAPL US <Equity> CN

MSFT US <Equity> CN

DIS US <Equity> CN



NI TEC

NI CPR

NI COS

NI US

NI CA

NI LEI

NI OBIT

NI WNEWS

NI RET

NI MUSIC

NI CONS

NI ENT