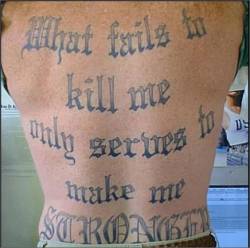 We have some natural sympathy for anybody locked in a battle against
Page Six
. Although that sympathy recedes when the P6 opponent is
Chaunce Hayden
, the rad tat-sporting editor of
Jersey gossip rag
Steppin Out
who was
denounced by P6 boss Richard Johnson
for feeding him
bad tips
. Because Chaunce's rage is now leading him to send out mass email blasts about "news" that he, uh, just kinda made up! Or maybe he's always done that? Either way, now he's pissed off the
Post even more
. Here's the full story of one errant shot in the gossip war: Today Chaunce sent out a big email blast that "New York Post, Page Six scribe, Marianne Garvey, has been fired!" Chaunce wrote that Garvey used to write for him at
Steppin Out
(which she describes as two pieces when she was in college for $40 each), and that she had recently turned down a cover at the mag
that instead went to Shallon Lester at the Daily News
, so maybe Richard Johnson was so mad about it that he fired her? But definitely, she was fired. According to Chaunce. Actually Garvey left to take a job at
In Touch
—which she announced more than two weeks ago. By all accounts she left on her own terms, and wasn't fired. When this was pointed out to Chaunce, he sent out a "statement":
We received a tip that Marieanne Garvey had been let go by the Post. When we called the Post for comment we were told by the paper that Marieanne no longer worked for the Post and would not comment further. Marianne has just informed us that she quit and that Richard Johnson was the best boss she ever had. We wish Marieanne the best at her new job at In Touch magazine.
This has caused Garvey to freak out a bit. So Chaunce emailed her an apology:
Calm down..... You're insane. We get dozens of tips a day and we follow up on all of them. Good luck at In Touch.. haha
Wrong, late, and mean: the three attributes of a great gossip hound.