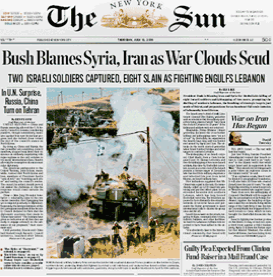 "I mean, just, the conservative elites ... it's actually an intellectual blockage ... that keeps them from supporting this stuff." That is
National Review
editor Ramesh Ponnuru
enlightening
today's
Observer
as to why conservative lobbyists don't promote his "pro-growth pro-family" tax initiatives, but why don't we just get hacky and apply it to another sad development for thinking conservatives broken today by the
Observer
: the
New York Sun
, a conservative New York daily that
secured its initial funding in 2001 from a hodgepodge of investors united most visibly by an abiding love for Israel
, has announced it will
close at the end of the month
unless it secures new funding.Many things have changed since the
Sun
was founded: lead investor and
Chicago Sun-Times
owner Conrad Black went to jail, oil went above $100 a barrel, Israel went to war with Lebanon, Bill Buckley died and someone named "Julia Allison" gave birth to something called "microcelebrity," and the embarrassing unbridled jingoism unleashed by the events of September 11 greased the proverbial wheels of a prodigious bounty of lousy deals that would result mainly in death and disillusionment, the latter of which would eventually, mercifully, find itself directed at the Republican Party and the conservative movement that, in addition to God, granted it so much power. But here is what has not changed: conservatives do not really
read,
which is to say, of course conservatives read but not things that are like,
long
*, and those who do tend to compartmentalize the pastime as something rather far removed from their ideology, and if that's not the case, well, they would seem to be sufficiently alarmed by the defilement of their once-optimistic "movement" to be
directing their information demands at suppliers of cruder, less ideologically-refined sources
than the
Sun
. Of course, this is all blather and speculation; I am merely stating what I believe to be the nature of business conditions in the niche. But it is not just
the Rupert Murdochs
of the conservative media ideologically softening these days; the nuttycon
Washington Times
would seem to be on a bid to "mainstream"
itself, while the talking heads and bloggingheads running such outlets as the
National Review
seem primarily to be brokering in new cute phrases: Sam's Club Republicans! The
Sourpuss Vote!
We've been
Palinized
! We think you'll agree, if there's anything the industry needs right now, it's de-Palinization.
*Yeah, case in point: NONE of those guys actually read the Bible.