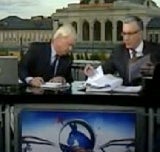 In interviews, 10 current and former staff members said that long-simmering tensions between MSNBC and NBC reached a boiling point during the conventions. "MSNBC is behaving like a heroin addict," one senior staff member observed. "They're living from fix to fix and swearing they'll go into rehab the next week."

...According to three staff members, Jeff Zucker, chief executive of NBC Universal, and Steve Capus, president of NBC News, considered flying to the Republican convention in Minnesota last week to address the lingering tensions.
Olbermann, by the way, told the Washington Post he never really wanted to be an anchor in the first place:
"Phil and I have debated this set-up since late winter/early spring (with me saying, 'Are you sure this flies?' and him saying, 'Yes, but let's judge it event by event') and I think we both reached the same point during the RNC," Olbermann said by e-mail.