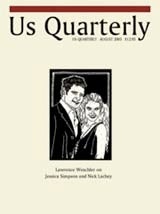 To many industry watchers, US Weekly remains an intriguing prospect for a sale. Mr. Wenner is perceived to be less emotionally attached to it than to Rolling Stone, which he founded 41 years ago as an outlet for his interest in music, and with which he is as personally and professionally involved as ever.

...And while he periodically floats the idea of selling his magazines, friends and former colleagues say, Mr. Wenner himself says he would like to hand over the business to his sons.

Still, he won't exclude the possibility of a sale. "You always think about it," he said.
And you always think about in such visible places!
[WSJ]