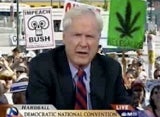 One knowledgeable source told us: "Shareholders were calling up NBC and GE - a lot, maybe thousands. They were saying, 'What the [bleep] is wrong with these guys?' . . . Chris Matthews just got stuck in the middle of it all."
Supposedly GE chairman Jeff Immelt got involved, presumably in the decision to replace Olbermann and Matthews with David Gregory. NBC denies this, but Immelt personally decided to let go of shock jock/bigot Don Imus that last time Imus acted like a racist tool on NBC's dime, so maybe there's some truth in the idea.
There's an alternate theory: Olbermann and Matthews were pushed aside simply because their squabbling was an obvious mess, but NBC chief Jeff Zucker invented the story about shareholder pressure to link the name of Jeff Immelt — rather than his own — to the MSNBC mess.
The Post never comes out and says Matthews is on his way out at MSNBC, but one has to wonder about his future there, and about what his next move might be. CNN? ABC? Start an angry ex-anchors network with Dan Rather? Beg a slot on Ana Marie Cox's YouTube thing? Anything is possible!
Whatever happens, Fox will continue to obnoxiously gloat about all the liberals' misfortune, as the network did yesterday:
[Post]