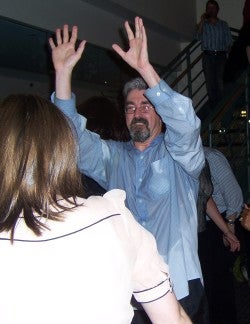 The pressure of financial woes at the
New York Times
must be getting to its Metro editor Joe Sexton. (That's him, dancing to hip-hop on the last day in the paper's old W. 43rd Street building last year.) Remember, his section is the one they're
planning to consolidate
with
sports
. His most recent memo takes comfort in a bought-out Des Moines journalist's farewell speech. The Bible is involved!
folks, a thoughtful, generous, even tender newsman named ken fuson took the buyout recently at the Des Moines Register. His farewell speech is on the Web. i liked it. thought you might, too. given everything. here's a taste: "I may question where the newspaper INDUSTRY is headed, but I have no concern at all about the talent, effort and commitment in this room. You're great, and you need to hear that more often.... So don't check your courage when you walk in this building. Yes, these are scary times, but it's YOUR decision whether to act frightened. You can get so consumed with what might happen, it can paralyze you. Believe me, I know.... Finally I'd like to close with my favorite three words in the Bible: Be not afraid. If change is constant, so is this: Human beings have always wanted and needed news and stories, whether they got it from the wall on a cave, around a campfire or on a computer screen....Be not afraid. everything's going to be OK."
Everything's gonna be OK.
Everything's gonna be OK
...