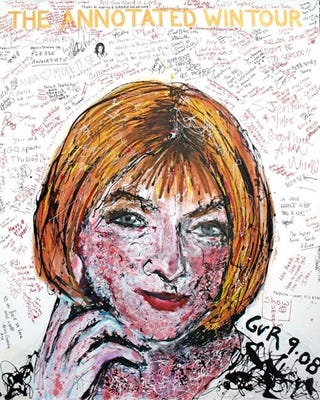 One hundred or so people finally got to give notorious
Vogue
editor Anna Wintour a piece of their mind at Fashion Week. Well, via a painting at least. An artist named Geoffrey Raymond (who aims to become "the pre-eminent American portrait painter of the 21st century") painted what he calls "The Annotated Anna" and set it up at Bryant Park this week with a request for people to write a little note to the
Devil Wears Prada
inspiration. Oh, and you can buy it! (Hear that Anna?) Starting bid on eBay is $3,500. The artist tells us more about his work after the jump.
I usually paint Wall Street movers and shakers, but I'm having a Fashion Week moment and have been gathering annotations on my portrait of Anna Wintour outside Bryant Park this week. Interesting the amount of people who obviously want to write something but aren't comfortable doing so. Meanwhile, a man from Vogue dropped by and said, "Anna's not going to like this." I told him I didn't understand why not—the painting is relatively flattering and most of the comments are nice enough. He just shook his head. With just under 100 annotations to date, some of my favorites include: —Love you or hate you, they all have an opinion of you. Own it! —You look great without the sunglasses —Hi Anna—I want a pass to the Vogue party —All is fair in love and war —I think the table of contents should be at the front of the magazine. Who's got time? —Enjoy the moment 'cause that's how it is. Aliona Doletskaya will eat your lunch. —Scaaary!! —Relax Anna. Don't be too serious!! "The Annotated Wintour" is currently on eBay. Bidding starts at $3,500 and ends Saturday morning at 11.
This signifies something about Fashion Week—is it kinder? gentler?—sure, but more importantly it continues with the trendy deification of fashion's increasingly most recognizable face. Anna Wintour is the new Coco Chanel. And that, yes, is a bit "Scaaary!!"
Full sized image is here.