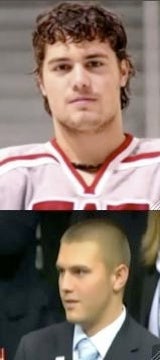 The temper was a longstanding problem. Hockey is a raw sport, but Mr. Palin pushed the limits and often got kicked out of games in Wasilla and at least once in Michigan... on the ice, he was an animal...

"Track has a temper so sometimes you'd only see him half the game," [longtime family friend Curt] Menard said. "Get there late and he'd already be out."

...The dream for Track Palin unraveled... starting when he separated his shoulder in Michigan. By March 2007, he was back with his family and that spring graduated from Wasilla High School. He had shoulder surgery, and the Avalanche offered him a playing slot, said the team's general manager, Jamie Smith.

But that summer, Mr. Smith said, Track Palin called him and said that his shoulder was not better and that he was going to enlist in the Army instead.
Plot twist: The coach thought the shoulder was fine. So maybe there's still more to the story than meets the eye, and it's too soon to rule out any of the rumors.
It seems the Times' Alaskan foodie agent will have to keep fishing!
[Times]