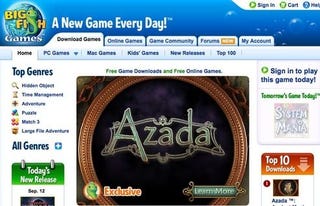 Big Fish Games — a maker of low-end videogames known as "casual games" — just landed $83.3 million in funding from Balderton Capital, General Catalyst Partners, and Salmon River Capital. Paul Thelen, a RealNetworks veteran who worked on that company's videogames business, founded Big Fish, which has seen one of "the biggest game-related fundings in recent history,"
according to PaidContent
. The company plans to spend the money on acquisitions, international expansion and getting games onto the Nintendo Wii. Iminlikewithyou founder Charles Forman, who makes a different type of online game, tells us Big Fish makes "games for Ohio shut-ins" and that "they represent the very old school of casual gaming, which is still a very good business. Their demo is 45-year-old women who don't have jobs but have tons of disposable income."