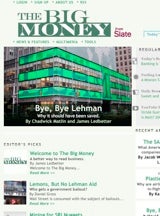 Among the other competitors cited by Mr. Ledbetter were CNNMoney.com, Forbes and Fortune. Mr. Ledbetter draws distinctions between sites like TheStreet.com, which pitch stock tips, and what he intends The Big Money to be.

Rather than promising to "read us and we'll make you rich," Mr. Ledbetter is offering to "read us and we'll make you smart."
So basically, the New Yorker finance page writ large.
There is one pretty cool idea: The site has a Twitter account devoted to heckling the Wall Street Journal. Sadly, the editorial page appears not to be included in this.
[Times]