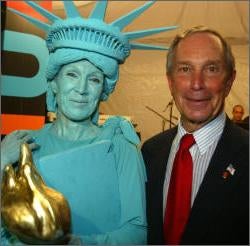 Gadzooks: at Bloomberg LP, the financial news company owned by NYC mayor Mike Bloomberg, six dozen women—"about one in seven of the roughly 500 female employees who became pregnant in the last six years"—are
now suing the company
for being treated unfairly. That's up from an initial plaintiff count of three. It's almost as if there's some sort of unfolding pattern here:
Now, there are 72 women on the suit—a suit that the company initially called a "publicity stunt,"
New York
mag
points out
. They always knew pregnant ladies were unstable, what with the hormones and all. Stop suing, ladies—stress is bad for your figure! Amirite Mike? Play on, playa!