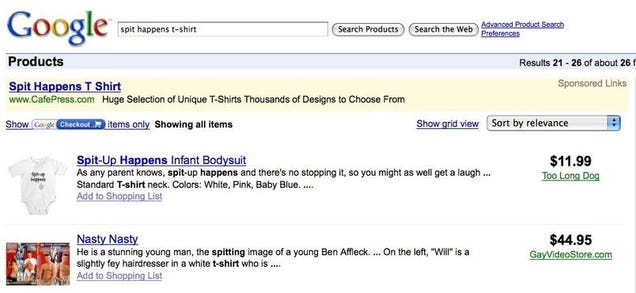 A tipster tells us his boss searched Google Products for a "
'Spit Happens' t-shirt
" for his infant. Google found him a suitably innocent bodysuit on CafePress.com. It also found him a pair of gay porn videos, one called
Nasty Nasty
featuring "a stunning young man, the spitting image of a young Ben Affleck," and another called
Bedrock,
featuring actors who "take turns pounding each other on a bunch of iron beds," — ouch. We're not sure who to blame for the confusion here.Google is the one whose X-rated product directory turned up even when the searcher turned on "moderate filtering." On the other hand, say "spit happens" to most any man in the 18-to-34 year old demographic, and you'll either get a jovial fist bump or a politely restrained grimace. The phrase hardly connotes innocence. And the algorithm tries to give the people what they want. Maybe Google
knows something
you don't?