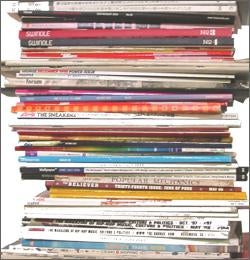 It's about time the magazine world jacked Netflix's business plan.
Maghound
is Time Inc's new service that lets you, the consumer, choose which magazines you want to receive every month—with no hassles, and one low price! (Runs hand, model-like, over selection of 240 glossy magazines). Seriously, this may not save the magazine industry, but it's a good product for anyone who likes magazines. For these three reasons!
1. Gladiator Wars:
Assuming Maghound takes off, it will offer a pure look at what consumers want to read (at least within the limited, non-Hearst pool of 240 magazines) when offered a broad array of choices. It could become the Billboard charts of magazine popularity. Plus you can watch magazines get dropped from subscriber lists immediately when people find out their content sucks! Now we just have to ask Time Inc. to make all this data public.
2. Price:
Three titles for five bucks a month, five for eight bucks, seven for ten bucks. It's a deal and a half. If Maghound takes off it should cut into news stand sales, because it allows you to sample issues without paying the price of a subscription
or
the higher price of a news stand copy.
3. Expansion:
The roster of magazines available now lacks big names like
The Atlantic, The Economist, Esquire
, and a bunch of others. But if Maghound proves to be a successful business, that list is bound to expand, because magazines—except very high-end titles—will see that it's in their economic interest to be included. So it's fair to expect more choice in the future. Or the thing will fold, but you only lost five bucks a month. So who cares? [
Folio
,
Paid Content
]