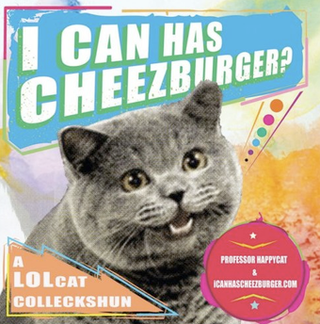 A couple months ago, we
LOL'd at the book proposal
for the upcoming LOLcats book,
I Can Has Cheezburger
? Then, in a
blog-to-book roundup
, we declared "do not want" on the LOLcat book, explaining, "The LOLcats experience is fleeting; the site stuffed with content, and copycat sites abound." We were right about some of these blog-to-books: the rushed-to-print
Stuff White People Like
, for instance, sucked and did not merit a review. But! We have the LOLcats books in our hands right now, and we'd like to overturn our previous verdict of DO NOT WANT.The new book is little and cute and we want! It may not be necessary for the Internet savvy among us (like everyone reading), but it makes a cute gift for someone like your grandma who doesn't understand the Internet but probably would understand funny captioned cat-photos. In the proposal, the authors assured they wouldn't be "just slapping some lolcats on a page and calling it a book." But that's exactly what they ended up doing! It doesn't matter, though. Because today we LOL'd, and we really needed to. And that is the power of the LOLcats.
Update
: On the book's Amazon.com page, we noticed something very weird: