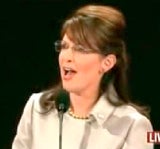 Valentino is of course a "flamboyant to the extreme" homosexual, and now Palin is blithely supporting his lifestyle, against the stated wishes of Jesus.
All of this proves that Palin laughs in the faces of bitter working people, or more likely that Obama's oppo team doesn't realize that the more people talk about Palin, the less they talk about temperamental old man John McCain and the happier their Republican counterparts become.
Also, the Obama people preemptively ruined this opening by making their own self-defeating fashion decision. They opened a bizarre online clothing store under this logo:


More on that at Wonkette.
[Post]