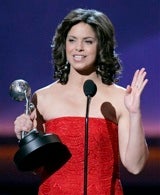 At the panel, O'Brien asked Immelt about diversity at NBC Universal — primarily, its lack of it.
Immelt responded, according to our tipster, that he hires who he is "comfortable with." He followed up that statement by listing, in order, the "type" of people he trusts. And they are:

1) White Men
2) White Women
3) Black Men
4) Black Women
Jossip asked O'Brien about the remarks, and she wouldn't deny them — but she also pointed out that the panel was off the record.
If the comments are false, O'Brien should find a way to say so, not only for Immelt's sake but for her own. As a leading CNN correspondent on race issues, she'd look irresponsible keeping these kind of inflammatory sentiments quiet on behalf of a major corporate leader.
GE flacks haven't denied the comments yet either, although spokesman Jeff DeMarrais called Jossip's report "an unrecognizable and unbelievable post" in the comments section.
[Jossip]