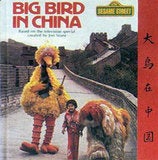 The Department of Homeland Security is
employing the cast of Sesame Street
to indoctrinate America's littlest citizens in the nuances of societal distrust and paranoia. This makes sense because
Sesame Street
is a Leninist television program produced by the
socialist government
and dating back to the height of fiscal crisis brought about by the reckless expansion of the welfare state to whose beneficiaries
Sesame Street
was engineered to placate.And the Department of Homeland Security represents the biggest expansion of government since the New Deal!
"We all want our children to feel safe in this world," said Meryl Chertoff, wife of Homeland Security Secretary Michael Chertoff, at a ceremony held at the John Tyler Elementary School to announce the partnership. "And who better to do that than our Sesame Street friends, Grover and Rosita!"
I don't know this "Rosita" but I am pretty sure she is
made in China.