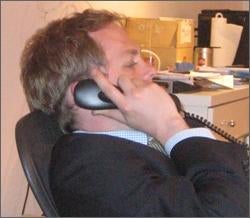 John Carney, editor of the readable financial news and gossip site Dealbreaker (
founded by
original Gawker Elizabeth Spiers), is leaving to edit a new, similar site from Silicon Alley Insider called "
ClusterStock.
" Caroline Waxler, formerly at MainStreet.com, will be heading up fellow SAI blog
the Business Sheet
. SAI itself is losing its managing editor Peter Kafka, who will be starting a new media and advertising blog for
AllThingsD
. And
wrestling champ
Alex "
Blue States Lose
" Blagg is leaving his blogging gig at
BestWeekEver
. See, jobs exist!