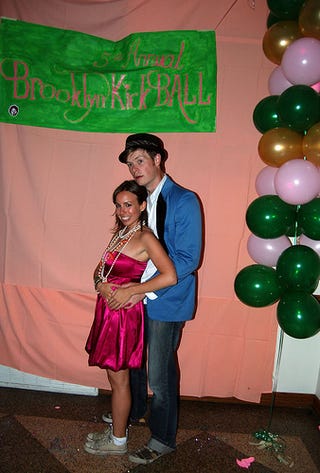 Things end. People move on. The Brooklyn hipster kickball league has entertained us with their exploits all summer—fights, getting arrested in Macy's, letters to dive bars demanding a laminated free drinking pass. Now the season is over. Last Friday, they gathered in Greenpoint one last time for the Kickball Prom. We were there to create the memories that would last us the rest of our lives.OK, so I didn't do any reporting—or embed with a team, as was offered—because my heels were too high and my feet hurt. (When Clay Felker said that women make the best reporters, he meant that they make the best reporters
if they are wearing sensible shoes
.) But the
New York Press did
!
"Nah, she's not my date bro, just some chick. I was voted biggest flirt two years in a row, and I was the second-rated pole jumper in all of New York State," the preacher's animus, dressed all in black and flipping his H&M fedora, explained.

"Second in the state bro," a far more offensive character and teammate, CK Sweat, chimed in at full throttle. There was no stopping him, "fabulous is the only word for me-tight Gaultier jeans, tuxedo scarf and granny glasses, I haven't seen anyone better dressed tonight." Okay, what makes you a hipster, CK? "First of all, I'm too much of a jock to be a hipster. Being in the top 2% of athletes excludes me from that category, but I can thrive anywhere."
The closest I got to a slow dance was when the burly Polish bouncer felt me up without permission. So in that respect it was exactly like high school prom! Until next season...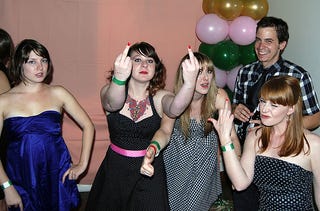 [Photo:
Lyndsey Matthews's Flickr
]