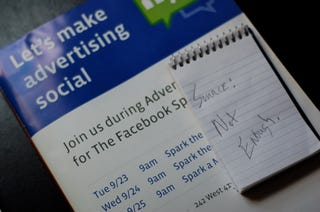 NEW YORK — Facebook is making a huge push during Advertising Week, an industrywide series of events for media buyers and publishers taking place now. Mark Zuckerberg's marketing minions bought a full-page ad in the program; sponsored sessions on Tuesday, Wednesday and Thursday mornings; and put Facebook COO Sheryl Sandberg on a panel. They're throwing a party Thursday night; Bob Marley's kid, Ziggy Marley, will be the entertainment. "We're finally sponsoring something!" I overhead one Facebook employee gush to another on Monday. It's all a big effort to reintroduce Facebook to the New York ad agencies after Zuckerberg
botched last year's first try
.Judging by Sandberg's panel appearence Monday, Facebook particularly wants to push its new Engagement Ads — the ones which allow users to comment on advertiser's banners. Yesterday, I sat down with a top executive from one of the major interactive agencies and asked him what he made of Facebook's showy efforts. Engagement Ads? "Eh, those aren't what I want," he said. Then he suggested three things Facebook needs to do right now to win Madison Avenue's money faster than a week's worth of sessions, panels and Ziggy Marley parties ever could.
Build a toll booth.
Everyone knows banner ads don't do it for big-budget advertisers anymore— not even ones that allow users to comment on them and share with their friends, like Facebook's new ads. Instead of creating gimmicky features that users don't want, Facebook needs to come up with ways for advertisers to be seen as providing new functionality on Facebook itself. By way of analogy, my source told me to imagine American Express sponsoring a normally congested toll road for a day. Drivers approaching the toll booths would see them empty and maybe billboard that read: "No toll today. Drive on through and see what it's like to be an American Express cardholder." That's the kind of branded experiences Facebook needs to create for users and advertisers, my source told me. Not gimmicky ones like asking users to design Mazda's new cars or come up with new Ben and Jerry's flavors. Facebook should encourage users to feel like a site improvement was brought to them by a brand. Maybe Facebook's Video application should have been sponsored by Sony's CyberShot line, for example. The challenge: Facebook's site developers work separately from the group which comes up with ad products, a divide Facebook needs to erase.
Facebook needs to stop imagining it will ever reach Google's size.
One reason Facebook hasn't come up with these kinds of advertising arrangements already is that they require lots of creativity, planning and customization. They're one-offs, and Mark Zuckerberg can't simply program a computer to sell them over and over. It's a terrifying reality for Facebook because its investors put money into it expecting it would become the next Google, which is an automated moneymaking machine. (Only 3,000 out of its 18,000 employees are required to run its advertising operations.) The sooner Facebook management and its investors realize that the company will not be the next Google — which, let's face it, lucked into a ridiculously simple way of making money — the sooner it can take advantage of its massive, desirable user base.
Zuckerberg and Sandberg need to hire Madison Avenue insiders.
My source says Madison Avenue avoids spending money on MySpace because no one in New York knows its ad salespeople. Facebook needs to put Madison Avenue insiders in positions where they have Mark Zuckerberg's ear. For example: Zuckerberg could have used someone with advertising experience to challenge him with the baby-name test before the company went forward with its Beacon ads. The baby-name test? "You know," he said, "The one where you take the name and think of all the terrible things it rhymes with and then decide if you still like it."