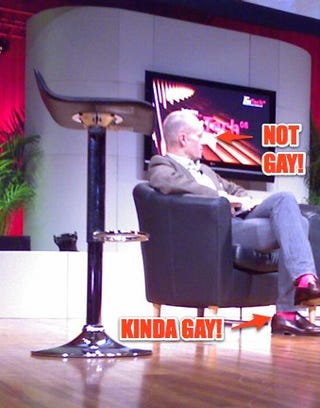 CAMBRIDGE, MASS. —
Technology Review
editor-in-chief Jason Pontin is bursting with pride. No,
not the Clay Aiken sort
: He is married — to a woman, one must specify, since this is Massachusetts — and the couple is expecting a child in mid-October. Oh, and his magazine has won some large number of awards from
an industry trade publication
, placing behind
CRN
for best online community. But how to explain his choice of wardrobe at the EmTech conference he is hosting? His hosiery recalls Nathan Lane's in
The Birdcage
. On the surface, Pontin's straightness remains as plausible as the
former West Oakland resident's
British accent.
Update:
Pontin adds, "Please mention my stylishly skinny Nudie jeans from Sweden." You're not helping, Jason.