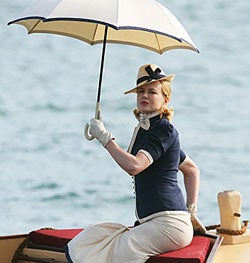 This just in from Defamer's Wall Street bureau: Pharmaceutical stocks are down and airlines are up this morning on news that Australian water is the world's most fashionable new fertility drug. Or at least that's the word straight from Nicole Kidman, who
attributes her recent pregnancy
to the pregnancy-friendly falls of Kununurra — the tiny town where the actress filmed her upcoming epic
Australia
. And while our skeptical medical experts beg to differ, the numbers from the mouth of the water's unofficial, Oscar-winning spokeswoman do not lie:
The 41-year-old Aussie, who gave birth to daughter Sunday Rose in July, said she and six other women [...] became pregnant.
"I never thought that I would get pregnant and give birth to a child, but it happened on this movie," Kidman told The Australian Women's Weekly in an exclusive interview for the magazine's 75th anniversary edition, released Wednesday. "Seven babies were conceived out of this film and only one was a boy. There is something up there in the Kununurra water because we all went swimming in the waterfalls, so we can call it the fertility waters now."
So begins the long pilgrimage for thousands of baby-ready couples around the world, not to mention the whirring marketing machine at Fox, which this morning called an emergency meeting to plot the November launch ofits
Australia
tie-in Kununurra Baby2o™: "When Urban sperm aren't enough, head for the Outback." Let's all hope this savvy souvenir performs as well for everybody as
Nic's Stolen Placenta Bites™
scored for
Moulin Rouge
.